Attributes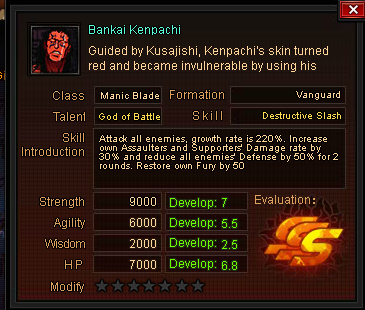 Class - Manic Blade
Formation
 - Vanguard
Strength - 9000 (Growth 7.0) 
Agility - 6000 (Growth 5.5) 
Wisdom - 2000 (Growth 2.5)
H P - 7000 (Growth 6.8) 
| | | | |
| --- | --- | --- | --- |
| Hit Rate | 125% | Dodge Rate | 1.5% |
| Crit Rate | 1% | Counter Rate | 0% |
| Break Rate | 0% | Block Rate | 1% |
| Combo Rate | 1.5% | Aid Rate | 0% |
Abilities
| Passive/Talent | |
| --- | --- |
| placeholder | Increase Damage Rate (20%) and Strength (20%), born with 20% Stamina |
| Skill | |
| placeholder | Attack all enemies, growth rate 220%, increase own Assaulter and Supporters damage rate by 30%, decrease enemies defense by 50% for 2 rounds, restoreown fury by 50 |
Modify
Fragments per dojo chance: 6
Modify Tier
Bonus
Materials (Fragments)
Level Requirement
Basic Modify (Bankin)
Immune Fury Deduction and Fury Restriction
120 Fragments
Level 40
Tier 2 Modify (Redemption Power)
When attacked, 50% chance to reduce enemy fury by 50
280 Fragments
Level 50
Tier 3 Modify (Constrained Soul)
When attacking, 100% chance to increase team's crit damage by 50%.
480 Fragments
Level 60
Tier 4 Modify (Dangai)
Add 15% Block Rate
720

Fragments

Level 70
Tier 5 Modify (Void Soul)
Increase all allies' ATK by 20%
1000

Fragments

Level 80
Tier 6 Modify (Divine Form)
Add 30% Avoid Injury Rate
1320 Fragments
Level 90
Ultimate Modify (Scattered Soul)
When being killed, decreases enemy defense by 100%**
1848 Fragments
Level 90
** This is not the same as clearing defense as advertised exactly. If, for example, Ryuujin Jakka activated a 150% defense buff, a 100% defense debuff would lower the buff's effect to 50%. All defense halos without a visible buff icon would have been completely cleared however.
Bond
Cost
Skill Animation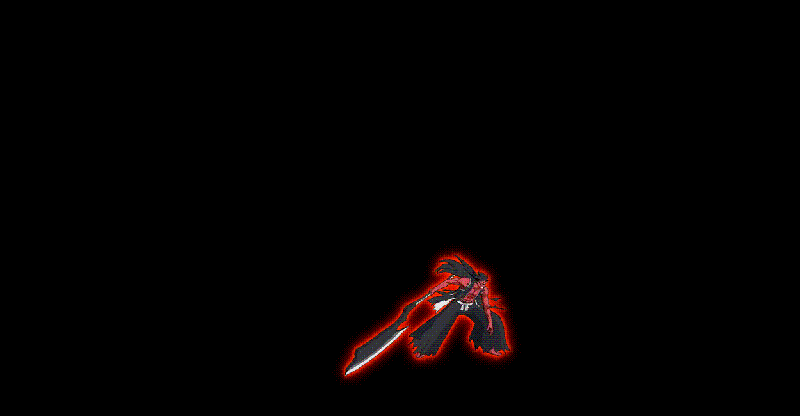 Ad blocker interference detected!
Wikia is a free-to-use site that makes money from advertising. We have a modified experience for viewers using ad blockers

Wikia is not accessible if you've made further modifications. Remove the custom ad blocker rule(s) and the page will load as expected.