The Captain-Commander of the Gotei 13. He lost his right eye in the battle with Wandenreich. Upon his Bankai Bones of Heavenly Blooming Madness·Withering Pine Lovers' Suicide release, an aura covers a large area around Shunsui. This aura changes others' perception of the surrounding environment, making them perceive it as darkened, bleak and gloomy, and causes others to feel varying levels of melancholy and despair. His Bankai includes four act, which is the most dramatic Bankai
Attributes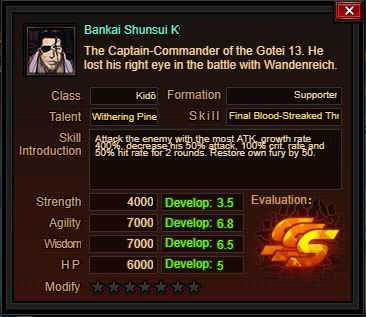 Class 
- Kido
Formation - Supporter
Strength - 4000 (Growth 3.5) 
Agility - 7000 (Growth 6.8) 
Wisdom - 7000 (Growth 6.5)
H P - 6000 (Growth 5.0) 
| | | | |
| --- | --- | --- | --- |
| Hit Rate | 125% | Dodge Rate | 1.5% |
| Crit Rate | 1% | Counter Rate | 0% |
| Break Rate | 0% | Block Rate | 1% |
| Combo Rate | 1.5% | Aid Rate | 0% |
Abilities
| Passive/Talent | |
| --- | --- |
| Incomplete Hogyouku | Increase Agility and Wisdom by 25%, naturally has 15% Avoid Injury Rate |
| Skill | |
| Final Blood-Streaked Throat | Attack the enemy with the most ATK, growth rate is 400%, decrease his attack by 50%, crit rate by 100%, and hit rate by 50% for 2 rounds. Restore own fury by 50 |
Modify
Fragments per dojo chance: 6
| Modify Tier | Bonus | Materials (Fragments) | Level Requirement |
| --- | --- | --- | --- |
| Basic Modify (Bankin) | Immune to silence and chaos | 120 Fragments | Level 40 |
| Tier 2 Modify (Broken Spirit) | Add 20% Kido Attack | 280 Fragments | Level 50 |
| Tier 3 Modify (Wind Spirit) | All allies' 15% speed | 480 Fragments | Level 60 |
| Tier 4 Modify (Withering Pine) | Silence enemy assaulter for 1 round when being attacked. | 792 Fragments | Level 70 |
| Tier 5 Modify (Share) | Decrease enemy vanguard's defense and avoid injury rate by 30% for 2 rounds when being attacked. | 1100 Fragments | Level 80 |
| Tier 6 Modify (Shadow Demon) | Make 2 random allies enter invincibility when attack, lasting for 2 rounds. | 1452 Fragments | Level 90 |
| Ultimate Modify (The Severing Abyss) | When Shunsui dies, the ATK of the enemy with the highest attack will be decreased by 100% for 2 rounds.** | 1848 Fragments | Level 100 |
**This is not the same as clearing all ATK. For example, if the partner additional has a 25% attack buff, the total attack reduction is 75%.
Bond
Cost
40.000 top up Anniversary Event
Source
Event
Skill Animation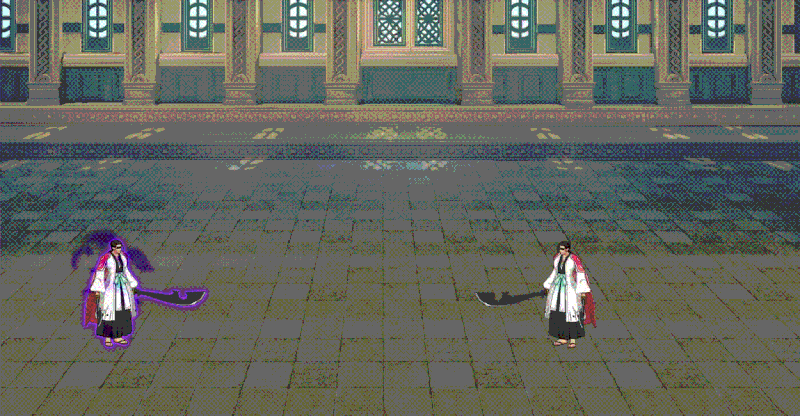 Ad blocker interference detected!
Wikia is a free-to-use site that makes money from advertising. We have a modified experience for viewers using ad blockers

Wikia is not accessible if you've made further modifications. Remove the custom ad blocker rule(s) and the page will load as expected.