Attributes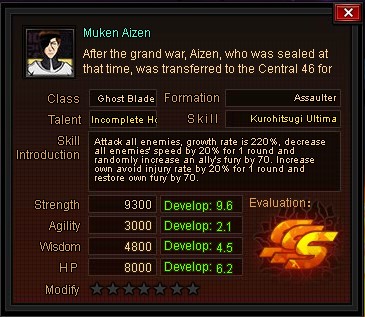 Class - Ghost Blade
Formation - Assaulter
Strength - 9300 (Growth 9.6) 
Agility - 3000 (Growth 2.1) 
Wisdom - 4800 (Growth 4.5)
H P - 8000 (Growth 6.2) 
| | | | |
| --- | --- | --- | --- |
| Hit Rate | 125% | Dodge Rate | 1.5% |
| Crit Rate | 1% | Counter Rate | 0% |
| Break Rate | 0% | Block Rate | 1% |
| Combo Rate | 1.5% | Aid Rate | 0% |
Abilities
| Passive/Talent | |
| --- | --- |
| Incomplete Hogyouku | Massively increase Strength (20%) and Damage Rate (25%), naturally has 20% Stamina |
| Skill | |
| Kurohitsugi Ultima | Attack all enemies, growth rate 220%, reduce enemies speed by 20% for 1 round, randomly increase 1 ally fury by 70 increase own avoid injury rate by 20% for 1 round, recover own fury by 70 |
Modify
Fragments per dojo chance: 6
Modify Tier
Bonus
Materials (Fragments)
Level Requirement
Basic Modify (Bankin)
Immune fury restriction and fury reduction
120 Fragments
Level 40
Tier 2 Modify (Soul Breaker)
Immune Stun and Mutilate
280 Fragments
Level 50
Tier 3 Modify (Shunpo)
When HP below 50%, recover max 30% HP
480 Fragments
Level 60
Tier 4 Modify (Bestowal)
Add 50% Attack
720

Fragments

Level 70
Tier 5 Modify (Invincible)
Halo: reduces enemies speed by 6%
1000

Fragments

Level 80
Tier 6 Modify (Eternity)
Ignore Invincibility
1320 Fragments
Level 90
Ultimate Modify (Shield Wall)
Increase Attack power by 100% per turn for 5 turns (Invalid for PvE) **
1848 Fragments
Level 100
** PvE does not include daily activities with Reiatsu in it. Events such as Ryoka, Evil Spirit, and Void are classified as "PvPE" by the developers.
Bond
Partner

Requirement

Max Bonus
Affix
Stage Requirements
Momo Hinamori
0.50 - 15.00% Speed
Hollow
X
Shinso Gin
0.58 - 17.25% Hit Rate
Hollow
X
True-Shikai Ichigo
1.00 - 30.00% HP
Hollow
X
Yhwach
2.75 - 10.00% Damage Rate
Deep
X
Appears in the bonds of...
Main
2.75 - 10.00% Physical/Kido Attack
Shin
Bankai Urahara
0.40 - 12.00% Speed
Destruction
Cost
10000 Inferno Stones
Source
Cross-Server Battle (CSB) - Inferno Challenge Stone Shop
Skill Animation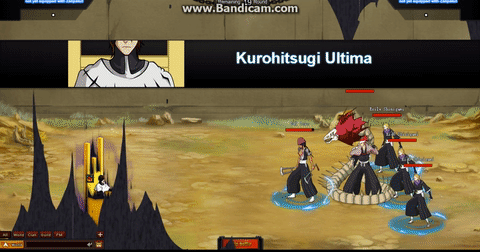 Ad blocker interference detected!
Wikia is a free-to-use site that makes money from advertising. We have a modified experience for viewers using ad blockers

Wikia is not accessible if you've made further modifications. Remove the custom ad blocker rule(s) and the page will load as expected.