Attributes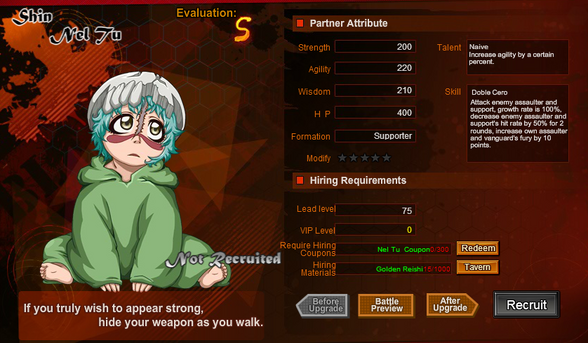 Class - Kido
Formation - Supporter
Strength - 200 (Growth 2.9) 
Agility - 220 (Growth 3.0) 
Wisdom - 210 (Growth 3.0)
H P - 400 (Growth 2.9) 
| | | | |
| --- | --- | --- | --- |
| Hit Rate | 105% | Dodge Rate | 1% |
| Crit Rate | 1% | Counter Rate | 0% |
| Break Rate | 0% | Block Rate | 1% |
| Combo Rate | 0.5% | Aid Rate | 0% |
Abillities
| Passive/Talent | |
| --- | --- |
| Naive | Increase Agility by a certain percent (15%). |
| Skill | |
| Double Cero | Attack enemy assaulter and support, growth rate is 100%, decrease enemy assaulter and support hit rate by 50% for 2 rounds, increase own assaulter and vanguard fury by 10 points. |
Cost
Require 300 Nel Tu Coupons, 1000 Gold Reishi, Lead level 75
Source
Battle Preview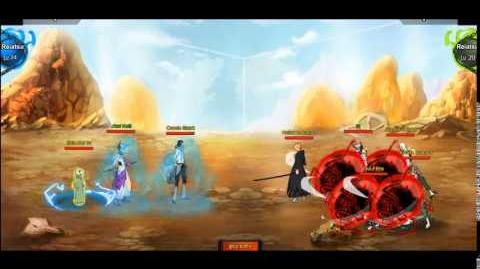 Attributes
Class
- Kido

Formation - Supporter
Strength - 250 (Growth 3.2) 
Agility - 280 (Growth 3.4) 
Wisdom - 260 (Growth 3.2) 
H P - 520 (Growth 3.2)  
| | | | |
| --- | --- | --- | --- |
| Hit Rate | 115% | Dodge Rate | 1.5% |
| Crit Rate | 2% | Counter Rate | 0% |
| Break Rate | 0% | Block Rate | 2% |
| Combo Rate | 1% | Aid Rate | 10% |
 Abillities
| Passive/Talent | |
| --- | --- |
| Gamuza | Increase Agility by a 18%, and naturally has 10% Aid Rate |
| Skill | |
| Lanzador Verde | Attack enemy assaulter and support, growth rate is 120%, decrease enemy assaulter and support hit rate by 65% for 2 rounds, increase all ally's dodge rate by 15% for 2 rounds, increase own assaulter and vanguard fury by 25 points. |
Cost
Require Shin Nel Tu,400 Nel Tu Coupons, 1800 Gold Reishi, Lead level 110.
Source
Bond
Bond
Bonus
Bond

Partner

Win Requirement

Instantaneous

Shadow

Add 0.4-12% Speed
Pantera Grimmjow (SWP)
Thunder

Spirit

Add 0.4-12% Damage
Soo Zabimaru Renji (SWP)

Spirit White

Flame




When attacking a 0.4-12% boost your critical attack by 20 %

Daiguren Toshiro Hitsugaya (SWP)

Like Thunder

Kido level of injury increased 0.75- 22.5%
Cute Orihime
Battle Preview
Ad blocker interference detected!
Wikia is a free-to-use site that makes money from advertising. We have a modified experience for viewers using ad blockers

Wikia is not accessible if you've made further modifications. Remove the custom ad blocker rule(s) and the page will load as expected.