Event Details
Reio's Furnace is a top up event which gives you 1 point per 1 topped up gold.

You can exchange your Reio Power Points for either the Zanpakuto Forging, giving you a certain percentage of gold back OR the Reio Treasure Shop.

You can open up chests in Reio's Treasure more than once.
Every 2,000 gold you top up will give you 1 free chance in the Reio's Gift section allowing you to select a gift you want.
Sexy Kukaku can be bought for 20,000 Gold.

Koga Kuchiki can be bought for 20,000 Gold.

Katen Kyokotsu can be bought for 40,000 Gold.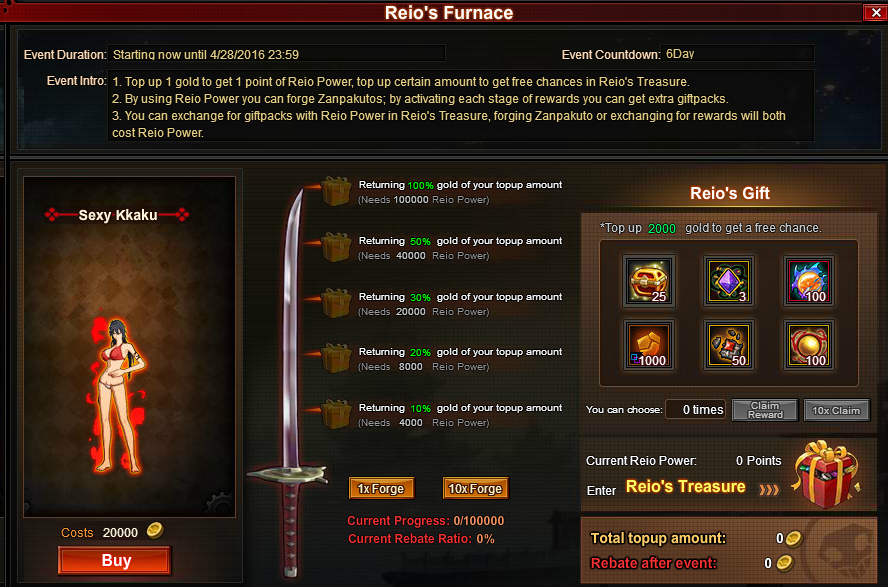 Rewards
Rewards include but are not limited to: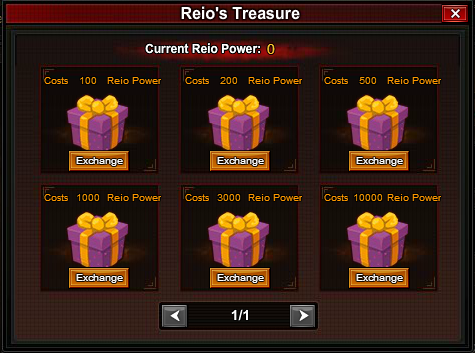 Exclusive Fragments
Hogu Convert Talisman
Hogu Enhance Talisman
Modify Fragment Chests
Hogyoku Pill Fragments
Red Hogyoku Fragments
Soul Stones
Spirit Stone Boxes
Tier 12 Hogu's

Ad blocker interference detected!
Wikia is a free-to-use site that makes money from advertising. We have a modified experience for viewers using ad blockers

Wikia is not accessible if you've made further modifications. Remove the custom ad blocker rule(s) and the page will load as expected.