Attributes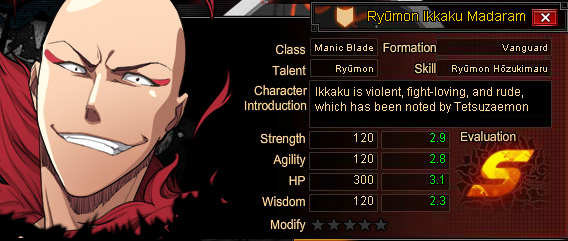 Class - Manic Blade
Formation - Vanguard
Strength - 120 (Growth 2.9) 
Agility - 120 (Growth 2.8) 
Wisdom - 120 (Growth 2.3)
H P - 300 (Growth 3.1) 
start level- 80 
| | | | |
| --- | --- | --- | --- |
| Hit Rate | 118.5% | Dodge Rate | 3.0% |
| Crit Rate | 1% | Counter Rate | 0% |
| Break Rate | 0% | Block Rate | 1.5% |
| Combo Rate | 2.5% | Aid Rate | 0% |
  Abillities
Passive/Talent

Ryūmon

Increases agility by a higher percent (20% agility),

20% damage rate

Skill

Ryūmon Hōzukimaru

Attack enemy vanguard, growth rate is 140%, increase own block by 75% and defense by 15% (three turns)
Modification
Fragments per dojo chance: 6
Modify Tier
Bonus
Material
Level Requirment
Basic Modify

(Blut Vene)

add 6% HP
72

Fragment

level 40
Tier 2 (Kyokko)
add 8% block rate
168 Fragment
level 60
Tier 3 (Danku)
add 8% Immune
level 70
Tier 4 (Shunpo)
add 7% SPD
level 80
Tier 5

(Cremation-Single Blade)

when he died, cast 200% dmg to all enemy
level 90
Tier 6 Modify (Ichiman'en Shirudo)
Increase defense by 5% when one round ends
Ultimate Modify (Kuyo Shibari)
When being attacked, have a 20% chance to recover own Fury by 30 points.
Cost
300 Comrade Contract
20000 Honor
Lvl 85 requirment.
Source
Honor Shop
Ad blocker interference detected!
Wikia is a free-to-use site that makes money from advertising. We have a modified experience for viewers using ad blockers

Wikia is not accessible if you've made further modifications. Remove the custom ad blocker rule(s) and the page will load as expected.