Shinigami Agent is a luxury, monthly feature, that allows you to complete random tasks throughout the game faster and gives several advantages. Upon buying Shinigami Agent for the first time for 1,888 Gold you will receive Tenjiro Kirinji and the other shown rewards.

Rewards
After activating it you will receive daily, weekly and renewing rewards.
If you want to add another 30 days to your agent's validity you must click the renew button which will deduct 999 Gold. Renewing will give you the Top-Up Rewards. It's a common mistake that players think they have to top up while in reality they have to buy the renewal. You can buy another 30 days several times I suggest doing it while the Visored Revenge event is active for better side rewards.
Benefits
For more information about the benefits you can click on Agent Welfare in game or read it below.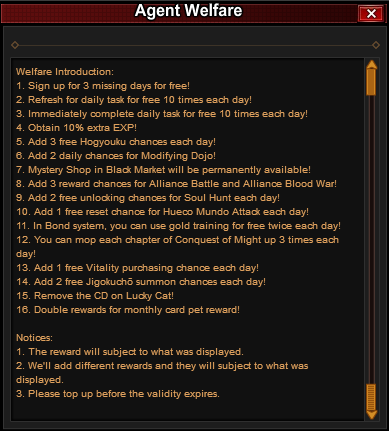 One unlisted benefit is no cool down on the interaction in the Mod Souls Home.
Another unlisted benefit is Beauty Games can be "One-click remove all" for free.
Links to benefits.
Ad blocker interference detected!
Wikia is a free-to-use site that makes money from advertising. We have a modified experience for viewers using ad blockers

Wikia is not accessible if you've made further modifications. Remove the custom ad blocker rule(s) and the page will load as expected.