Attributes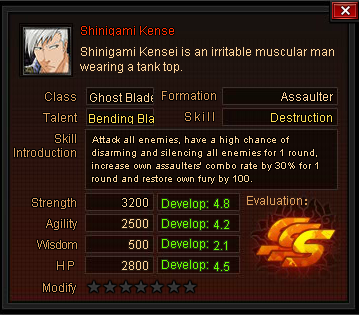 Class - Ghost Blade
Formation - Assaulter
Strength - 3200 (Growth 4.8) 
Agility - 2500 (Growth 4.2) 
Wisdom - 500 (Growth 2.1)
H P - 2800 (Growth 4.5) 
| | | | |
| --- | --- | --- | --- |
| Hit Rate | 120% | Dodge Rate | 1.5% |
| Crit Rate | 0% | Counter Rate | 0% |
| Break Rate | 0% | Block Rate | 0% |
| Combo Rate | 0% | Aid Rate | 0% |
Abilities
| Passive/Talent | |
| --- | --- |
| Bending Blade | Increase Strength (18%) and Agility (15%) by a certain percent |
| Skill | |
| Destruction | attack all enemies, growth rate is 110%, have a high chance of disarming and silencing all enemies for 1 round, increases own assaulter's combo rate by 30%, recover self fury by 100 points. |
Modify
| Modify Tier | Bonus | Materials (Fragments) | Level Requirement |
| --- | --- | --- | --- |
| Basic Modify (Blut Vene) | Add 10% HP | 132 Fragments | Level 40 |
| Tier 2 Modify (Kakushitsuijaku) | Add 10% Combo Rate, can break 90% limit | 308 Fragments | Level 50 |
| Tier 3 Modify (Bankin Seal) | Immune Fury Restriction | 528 Fragments | Level 60 |
| Tier 4 Modify (Bankin Stop) | Immune Stun | 792 Fragments | Level 70 |
| Tier 5 Modify (Bankin Soul) | Immune Fury Reduction | 1100 Fragments | Level 80 |
| Tier 6 Modify (Kasō Utsusemi) | When died, cast Invincibility on all allies for 2 rounds | 1452 Fragments | Level 90 |
| Tier 7 Modify (Bankin Silence) | Immune Silence | 1848 Fragments | Level 100 |
Bond
Partner

Requirement

Max Bonus
Affix
Stage Requirements
Kaname Tosen
1.00 - 30.00% HP
Hollow
X
Visored Hirako
0.45 - 13.50% Damage Immunity Rate
Hollow
X
Shinigami Yoruichi
0.30 - 9.00% Combo Rate
Hollow
X
Shinigami Urahara
When being attacked, have 0.50 - 15.00% chance to get Advanced invincibility for 1 round
Hollow
X
Appears in the bonds of...
Main
2.75 - 10.00% Physical/Kido Attack
Shin
Shuhei Hisagi
0.45 - 13.50% Damage Rate
Hollow
Isane Kotetsu
When being attacked, have 0.50 - 15.00% chance to stun attacker for 1 round
Hollow
Koga Kuchiki
When being attacked, have 0.50 - 15.00% chance to stun attacker for 1 round
Hollow
Cost 
- 12k gold ( 8k points ) in turntrable event
-8k~ in christmas event
Source
Event
Skill Animation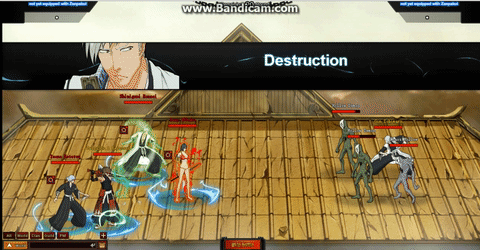 Bugs/Misprints
On US servers, it has been reported by several people that the tier 2 modify gives about 15% combo rate although the increase is not an exact whole number.
Ad blocker interference detected!
Wikia is a free-to-use site that makes money from advertising. We have a modified experience for viewers using ad blockers

Wikia is not accessible if you've made further modifications. Remove the custom ad blocker rule(s) and the page will load as expected.